Los Angeles, California, 14th March 2000
Shaz, My wife Joan and I are big fans of yours.
What a super web site and what an amazing job you have done ....
You have some great info ... and I should know because I was there!!!
Keep up the great work. Your friend and fan,
Dwayne Hickman a.k.a Dobie Gillis
* * *
THERE IT WAS in my guestbook, a message from 'Dobie Gillis' himself. And if the name doesn't ring a bell then you're probably not a babyboomer and didn't grow up watching Australian or American tv.
In the 1960s kids all over the world tuned into a ground-breaking new television series called The Many Loves of Dobie Gillis. Australians, in particular, loved Dobie. It was witty, audacious and, most importantly, gave young people a voice. Today, that's hardly unusual, but back then it was a revelation. Dobie broke down barriers and engendered a new style of comedy – smart, expressive, youthful sitcom that decades later was represented by shows like Friends and Seinfeld.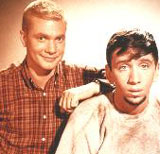 Based on a succession of stories by American humorist Max Shulman, Dobie Gillis also spawned the careers of Bob "Gilligan" Denver, Tuesday Weld and a then-unknown Warren Beatty in regular roles. It also featured an impressive array of guest artists including Ron Howard and Ryan O'Neil, voice-over master Mel Blanc, and silent film star Francis X. Bushman, the original Ben-Hur.
As for Dwayne Hickman, Dobie's star, he was the hottest teenager on '60s television. He had worked since childhood with such luminaries as John Wayne, Claudette Colbert and Paul Newman. His friends and comedic coaches were the legendary Jack Benny, George Burns and Robert Cummings. He teamed up during the 1970s with Howard Hughes as a promoter. Throughout the 1980s he was executive-in-charge-of-comedy at CBS working on hit series like M*A*S*H.
And now, here on my website, was Dwayne Hickman writing for all to see that he was a fan of mine. Was I star-struck? You betcha!
Several months earlier I had emailed Dwayne asking for an interview for my nostalgia hobby site, The Lively Set. My research told me he'd morphed into a successful oil painter in the 1990s, and I was intrigued by his pattern of reinventing himself with each new decade. Of course, I was also a fan.
The subsequent interview led to more than I'd planned. Dwayne Hickman is one of the most affable and generous people any writer could hope to deal with, so my intended short feature turned into a blockbuster. LIKE WOW! LIKE WWW DOT FLASHBACK DOT COM chronicled Dwayne's memories on everything from being coached by George Burns and Jack Benny, to being a child extra in The Grapes of Wrath with Henry Fonda, to his animosity towards Warren Beatty, and his "aggravating, but wonderful" relationship with Tuesday Weld.
Happily, Dwayne and his wife Joan enjoyed my article. Not only did they leave a message in The Lively Set's guestbook, they kept in touch. Several years later, they asked me to research art markets in Australia and publicise Dwayne's work. Had anyone told me when I was watching Dobie Gillis as a teenager that one day I would become a friend and business associate of its star, albeit from almost 12,000 kilometres away, I would have expired on the spot.
* * *
I WAS DELINQUENT in embracing computers, hanging on to my old typewriter well past its use-by date. But once I made the technological leap to an Apple Mac in the 1990s, I was hooked. Within a year I was running my own computer-based business producing newsletters, and before the decade was through I'd begun experimenting with website development.
Browsing my first attempt, The Lively Set – named after a '60s cult movie – it's clear I knew little about web design back then. But the site hit a chord with '50s/'60s aficionados worldwide and grew rapidly from just a few pages to almost a hundred. Contributors came out of the woodwork eager to share their stories and experiences.
One was Max Allen Collins who in 1996 directed Paul Petersen, former child star of the television stalwart The Donna Reed Show, in a horror flick called Mommy's Day. His story – Paul Petersen, Mommy and Me – was written especially for The Lively Set. Soon after, I discovered that the same Max Allen Collins was an award-winning mystery/thriller writer and best-selling author of movie tie-in novels such as Saving Private Ryan, Air Force One and In the Line of Fire.
It was becoming clear that fame and success did not preclude generosity towards a relatively unknown Australian producing an amateur website about a bygone era in entertainment.
New York writer Tom Lisanti was next. In late 2000 I plugged his book, Fantasy Femmes of Sixties Cinema, on The Lively Set. It sparked a friendship that resulted in me designing Tom's first website and more recently contributing to the research of his fourth book, Hollywood Surf and Beach Movies: The First Wave 1959–1969, which was released this year.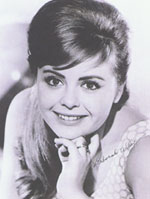 Deborah Walley, who during the 1960s played leading roles in 13 major movies and spent two years in her own hit tv series, granted me an interview in December 2000. As star of Gidget Goes Hawaiian, Deborah had been one of my childhood heroines. Not only could she act, ice-skate and dance – professional aspirations I shared but never fulfilled – she had become in her later years a writer, director and producer of some repute, winning four major film awards for the 1990 children's short The Vision of Seeks-To-Hunt-Great.
At the time of our interview, Deborah was writing a book about Elvis Presley. Provisionally titled Conversations With The King, it recounted details of their close platonic friendship and the "spiritual awakening" she experienced through him. "Not a children's book but ... definitely G-rated," she told me. Unfortunately, it was never completed. A few weeks after we spoke she was diagnosed with cancer, and less than five months later was dead. But in the meantime I published the article based on our interview, and Deborah and I continued to correspond. Later, I dedicated The Lively Set to her memory because she epitomised the optimism and enthusiasm of youth in the early sixties – a time before most of us babyboomers were forced to confront the harsh realities of politics and war.
And that's just part of the story. Through The Lively Set and my subsequent Troy Donahue website I've come into contact with some fascinating people. A number of them are celebrities like Dwayne and Deborah or authors like Tom and Max, but most are ordinary folk who simply enjoy the music and movies of an erstwhile era: Rejane, the US marshall from Texas; Nancy, the artist from Michegan; Phil, a mild-mannered Kansas schoolteacher; and Leonie the roller-skating housewife from Melbourne.
There have been a few unpleasant incidents - one fan abused me via email for not divulging celebrity phone numbers while another became macabrely obsessed with Troy Donahue's death - but overall, the experience has been positive and illuminating. To coin a nostalgic Aussie expression, I wouldn't have missed it for quids.
Story this page © 2005 Sharyn Peacocke