Destination: cyberspace. Rewind to the '60s.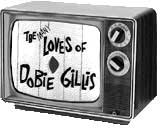 A park bench. A cute teenager in a check shirt emulating Rodin's Thinker, pondering how to get a girl -- just one beautiful, gorgeous, soft, round, creamy girl. Rapping with his good buddy Maynard G. Krebs. Chasing the unattainable Thalia. Dodging Zelda Gilroy.
Dobie ... wants a gal who's dreamy ...
Dobie ... wants a gal who's creamy ...
Dobie ... wants a gal to call his own ...
Fast forward. Like wow, man -- is he really 65? That makes me, us ... gosh, never mind. I tell him I'm a fan and ask if we can chat. "Sure," he says, and pulls out all stops to make me comfortable. Almost forty years on, he seems much the same -- affable, warm, witty, polite.
Dwayne Hickman, aka Dobie Gillis, perches on a stool in the courtyard studio of his Santa Monica home expertly applying paint to a canvas. Upstairs in a loft office overlooking the mountains and sea, his wife Joan Roberts Hickman keeps tabs on their official website using a home computer, the nucleus of their thriving family business.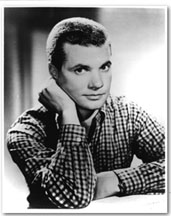 It's a long way from The Many Loves of Dobie Gillis, the ground-breaking 1960s sitcom starring Dwayne Hickman as Dobie, the lovable teenager whose sole ambition was to win a girl.
Or is it? Although in recent years he's developed new celebrity status as an artist, Dwayne Hickman is still a screen star. But these days it's a computer screen where he makes his mark, thanks to modern technology and www.dwaynehickman.com.
Less than two years ago, the Hickmans didn't even own a computer. Yet today, Dwayne is one of a growing band of celebrities taking advantage of the technological revolution by operating his own official website in cyberspace. It has turned out to be a winning strategy that not only puts him in direct daily contact with his fans, but also forms the basis of his business enterprise.
However, it is not the first time he has found himself at the forefront of a revolution. The Many Loves of Dobie Gillis, with Dwayne as its star, rose to cult status amongst teenagers during the early 1960s. But Dwayne says he had little clue he was making classic TV at the time. He even threw away his scripts, never dreaming they would become prized collector's items. Now he sees Dobie as a trailblazer not only in terms of situation comedy, but in television generally. And he should know. For 10 years from 1980, during one of his various non-acting incarnations, Dwayne was executive-in-charge-of-comedy at CBS working on hits such as M*A*S*H and Designing Women.
"Dobie was so well written and so ahead of its time," he explains. "The spinning frames, the short clipped scenes, the rapid-fire delivery - it was the MTV of its time. Breaking the fourth wall and having Dobie talk to the audience was ground-breaking."
And so too were the show's innovative characters, especially Dobie's best friend Maynard G. Krebs, the dishevelled pre-hippie beatnik with an aversion to work ("WORK!?!!") who challenged the status quo and prefaced most phrases with the word "like", unconsciously previewing 1990s hip lingo. Maynard was even responsible for promoting the talents of the extraordinary but unfashionable Dizzy Gillespie and Thelonius Monk on '60s television through frequent reverential mention of their names. A jazz fanatic who played bongos and sang scat and bebop, he was part inspiration for Dobie's funky jazz score written by Lionel Newman.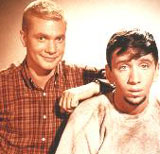 The Krebs character developed such a strong cult following that, to this day, a legend persists that he recorded an album called Like What?, a mixture of scat, jazz and poetry now worth thousands of dollars on the collectors' market. Comments by folk icon Bob Dylan about his own recording, If Dogs Run Free, only served to perpetuate the myth. "I wanted to get that Krebs sound," he told Rolling Stone magazine some time back. "You know, with the girls in the back, like what?"
According to Dwayne, Maynard G. Krebs wasn't the only one who was like cool, man. So was his alter ego, Bob Denver, who later took the lead in the smash hit comedy Gilligan's Island. Dwayne and Bob have been close friends for over forty years, "never exchanging a cross word". They have even linked their internet web sites, www.dwaynehickman.com to www.bobdenver.com.
But Dwayne has less time for Warren Beatty, who played the regular role of rich kid Milton Armitage during Dobie's first season, and who reportedly denies any connection with the show, despite palpable evidence to the contrary.
"Warren Beatty has always acted like a Movie Star even when no one knew who he was. I think that he denies being on the show because he didn't want anyone to think he began on TV," reveals Dwayne, adding cheekily: "If he ever decides to run for President of the United States, that would be interesting. In a Dobie episode we ran against one another for class president -- I don't remember now who won!"
Warren Beatty was, in fact, tipped to enter the 2000 US presidential race, but pulled out due to lack of support. Dwayne is hardly disappointed. "I think that between the egos of the actors and the wrestlers in this country we are taking away from the truly dedicated and informed people who should be getting their voice heard," he muses.
Dwayne has fonder memories of Tuesday Weld, who played Dobie's gorgeous but money-grubbing love-interest, Thalia Menninger.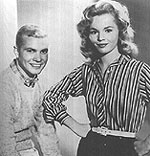 "Tuesday was 15 going on 30 and she felt that I acted like an old man -- or, as she used to say, 'You're such a farmer'," he recalls affectionately of the co-star he first met when they teamed for Rally 'Round the Flag Boys in 1958. "My background with Cummings was rehearse, rehearse, rehearse, but Tuesday liked to walk in and do the scene. I must say that she was really wonderful. Aggravating, but wonderful."
"Cummings" was the celebrated Bob Cummings Show in which Dwayne Hickman played the regular role of Bob Cummings' nephew, Chuck MacDonald, for three seasons on prime-time television. Produced by George Burns during the mid 1950s it starred Bob Cummings with appearances by Jack Benny. The colossal influence of these luminaries on Dwayne's acting style is evident in almost everything he did thereafter, from Rally Round the Flag Boys with Paul Newman in 1958, to Dobie Gillis during the early 1960s, and Cat Ballou with Jane Fonda and Lee Marvin in 1965.
"I have often been told that I have many of the same mannerisms as Jack Benny and certainly Bob Cummings," he reveals. "I learned everything I know about comedy and comedy timing from [them and] George Burns. George and Jack would come by the set and watch rehearsals and then give notes. I was taught by the best. Bob worked with me every step of the way."
But Dwayne almost didn't accept the role in Cummings that established his successful television career. A shy kid who "just wanted to be left alone", he spent his formative years on movie sets trying to disappear behind the scenery. He was literally dragged into acting when his mother took him to the studio with his older brother, Darryl, who was cast in The Grapes of Wrath with Henry Fonda. Dwayne says it was a miserable experience for a six-year-old.
"I was just standing around and suddenly I was cast as an extra. I hated it because I was so shy. My brother was older and far more outgoing -- this kid would tap dance and sing at a moment's notice -- [so] I became known as 'Darryl Hickman's brother'. Even as a small child I never felt that I should have to compete with anyone - even my older brother."
Years later, Darryl Hickman was given a short-lived support role in The Many Loves of Dobie Gillis. It did little to improve the relationship. "I don't know exactly what caused the friction between my brother and I," admits Dwayne, "but we have never been close."
Happily, the same can't be said of Dwayne's latter-day family. "We have a wonderful relationship," he says of his wife of 16 years, Joan. "Some couples could not work together but we enjoy working on our projects and building our art business. It also gives us time to be with our son. You can never spend enough time with children."
Their son is seven-year-old Albert Hickman, who Dwayne describes as "wonderful". "He has the looks, personality and comedy timing to carry on the family name," says the proud dad. "That said, let me add that Joan and I never want him to be a child actor. We both feel that it takes away their childhood and puts untold pressure on children."
During his own childhood, Dwayne worked with an impressive array of stars including John Wayne in Tall in the Saddle, Robert Cummings in Heaven Only Knows, Claudette Colbert in The Secret Heart and Jeanette MacDonald in The Sun Comes Up. Later, during his television years, he was again coerced into performing against his will when an over-zealous publicist decided to turn him into a teen singing sensation. "What a disaster," he groans. "If you ever heard my pitiful attempts at rock 'n' roll you would realise that it would never have been my idea to sing."
After shooting the last season of Dobie Gillis in 1963 Dwayne returned to movies but, apart from the critically acclaimed Cat Ballou, few served to stretch his considerable talents as a comedian.
In 1970, seeking an escape from full-time acting, Dwayne teamed up with eccentric billionaire Howard Hughes at the Landmark Hotel bringing country-and-western legends Jerry Lee Lewis, Tammy Wynette and Roy Clark to the Vegas Strip. He describes it as "a soul-searching time and one that I am glad I never have to go through again."

These days he still acts occasionally, but perhaps his unrequited childhood need for solitude fostered what Dwayne refers to as his "true love" -- painting. A successful artist, whose works now hang in The Americana Gallery in Carmel and The Charles Hecht Gallery in La Jolla, he spends a considerable amount of time creating colourful artworks on canvas.
And how does he market his art? www.dwaynehickman.com, of course. The internet has revolutionised Dwayne's business activities, enabling him to sell his paintings worldwide, along with memorabilia from his TV days and his autobiography Forever Dobie: The Many Lives of Dwayne Hickman.
The net also puts him in close contact with his fans -- not only middle-aged Dobie devotees, but also an uncanny band of Generation Xers hooked on reruns. "You were the boy of my dreams," writes one smitten 25-year-old in Dwayne's cyber guestbook. "I still to this day do not remember ever seeing anyone as gorgeous as you." And from another young convert who catches Dobie on cable: "I think your show was/is the greatest!"
Feeling nostalgic, I send my own message thanking him for the memories. It sparks our conversation, which all too soon is over. My research is complete except for one small detail. Back to cyberspace. I request a search on Warren Beatty and get 3,290 possibilities headed by 'Warren Beatty for president'. It links to a lacklustre page titled 'Beatty 2000'. Hmmm - little surprise he lucked out on this year's presidential race.
Just a tip, Warren. If you plan to run for the oval office in 2004, drop in on your old classmate Dobie at www.dwaynehickman.com. You might just learn a thing or two about marketing.
© Sharyn Peacocke 2000