It's a place they call The Outback
And we're never far apart
For the Outback's not a place at all
It's the beating of my heart.
– L.B. Watts, 'The Outback'
LEIGHTON WATTS, folk singer, songwriter, poet and actor, had been sober for three years when in 1993 he was invited to perform at a cross-cultural conference in the US. He sold everything and jumped on a plane. "I wore a slouch hat and from the moment I hit the stage and said 'G'day', I was a representative of Australia".
The Yanks loved it, and almost before he could utter "Bonza, mate!" Leighton had found his niche. He transmuted into Leighton B. Watts, emblematic Akubra-wearing balladeer from Down Under, wisecracking guitar-strumming Patersonesque bush poet, charming Aussie cowboy with his heart in the Outback and a baritone as rich and authentic as the leather on his RM Williams boots.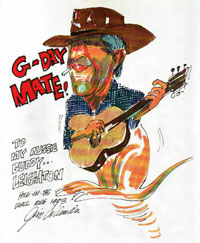 Original caricature by Jim Collender, sketched at the Hole In The Wall, Wyoming
His first gig evolved into ten years of touring North America where his distinctiveness as a performer had earned him the coveted Green Card. "I bought a yellow VW, painted the bumpers green so I had the green and gold. I had a kangaroo and an Australian flag and an American flag on the front … and I travelled across Nebraska, Iowa, Missouri and Kansas doing festivals and singing Australian songs. Singing my Australian songs".
Ironically, those songs – such as The Murray Stream, Living In My Home and My Old Enamel Mug – which feature so prominently in his American act, have scant appeal to Australian club goers. So, with the exception of country festivals, he performs them rarely here, opting instead for a '70s jukebox of mostly American covers. After all, as he points out, his primary purpose in the clubs is to "keep 'em drinking and keep 'em gambling". And, as a recovering alcoholic, he doesn't discount that irony either.
Rural Australia is more appreciative of his original bush ballads and poetry, much like middle America. In fact, his poem The Outback was adopted by organisers of the 2006 Year of the Outback because, according to their website, it is "an item of literature that really strikes a chord".
This kind of recognition means a lot to Leighton. In his own country it's rare, which explains why he possesses what some may view as an unfashionable fondness for Americans, who have embraced his music, relished his idiosyncrasies, and fostered his craft.
"I have this phobia about being misunderstood ... and also the way others perceive me, or, for that matter, I them," he admits. Given his journey, maybe it's no surprise.
* * *
In the quiet hours of morning
The thoughts come without warning
Of time gone by and memories
Of years and months and days.
And the whistle sounding hollow
Shows the path that I must follow
In the predetermined pattern
Of my ever-travelling ways.
– L.B. Watts, 'Ever Travelling Ways'
IN THE 1970s and '80s Dirty Dick's medieval theatre restaurant was a repository for Sydney's under-utilised actors and musicians between gigs. A place where if the regulars didn't recognise a character from last week's cop show or soap opera, then they hadn't been watching Australian tv. In 1988, Leighton Watts was one such performer: a talented but creatively frustrated refugee from Bellbird, Crawford dramas and musical variety productions "playing as a minstrel [and] getting pissed every night after the show".
That same year, he was lured overseas to market video vending machines in London. But he got "stiffed" on salary before his bags were even unpacked, and en route home spent a drunken week in Tahiti with a bunch of Canadians "of delightful Scottish heritage". It's typical of Leighton that they've remained close friends.
Arriving in Sydney, his feet still hot from the tarmac, Leighton learned his father had only months to live. "I was sanguine about it," he recalls "but only because I was somewhat inured to feelings by this time, having squashed them as being too risky for most of my life either by drinking or running to something else." He sang at the funeral in July and, soon after, his first wife started divorce proceedings. "She rang me saying 'Good morning, and congratulations. We're divorced'. 'Oh', says I, 'Was that today?' I was still drunk from the 7,000 nights before."
But the next blow put Leighton on the road to recovery. Back in the Dirty Dick's fold, touring northern Queensland with booze as his consort, he got so drunk they cancelled his act. He was devastated.
"That was really the only thing that defined me, that I felt I owned about myself, this pride in my performance. I ended up sitting under the palm trees … drinking rum and bawling ... for a variety of things lost, including my father, myself and my soul. I was absolutely and terribly stricken with the certainty that I was of utterly no worth to anybody.
"I'd love to be able to say that that was my epiphany and, in a way, I suppose, it was, but I wasn't ready to act on it. What I actually did was to try to drink myself to death out of boredom, bewilderment and frustration over the next two years until June 1990, when I got sober."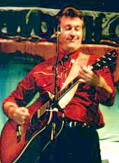 Soon after, although he had no idea it would become a recovering alcoholic's anthem, Leighton penned The Prayer, a heartfelt plea for compassion and forgiveness. Today, the song continues to chart favourably in the Country Gospel Connection Top 100 which comes out of Branson, Missouri. Many see it as an addict's prayer, but Leighton insists it is much more than that.
"It was about finding a 'power' that could actually let me go, to free me from my own conscience [and] the lovely part of it is that people may get a little bit of hope from it."
And he has proof they do. In Tamworth, a year into his sobriety, he met a bushie who was doing it tough with the booze. Moved by the man's struggle, Leighton sent him a couple of songs including The Prayer and Gonna Have Me a Sober Day. Six weeks later he received a brief acknowledgement. "Dear Leighton," it read. "Thanks for the music. I'd saved up my pennies to get a bottle and I didn't."
Leighton pauses to savour the memory while dragging deeply on a cigarette, an almost lifelong habit he's been trying to kick but can't. Then he breaks his silence. "There's a reason for everything," he says pensively, "and sometimes you get to understand what it was."
Some day I'm gonna travel my way
Down the Murray Valley Highway
To the finest sight I've ever seen
The ghost gums growing by the Murray stream.
We'd travel there when we were children
Camp on the banks, throw a line in,
And the Murray cod seemed to move so slow
We might catch one but we'd let him go.
– L.B. Watts, 'Murray River Stream'
* * *
THE COCKY, freckled-faced kid from New Zealand who at ten adopted Australia as home spent his adolescence on Sydney's affluent Upper North Shore where even musically gifted, awesomely creative children were indoctrinated with "get a real job" rather than follow what their parents saw as impractical, elusive dreams.
This is where Leighton and I met many years ago - two unsophisticated 14-year-olds giggling self-consciously as we towed the North Shore line by learning to Fox Trot and Cha Cha in the era of The Twist and The Stomp along with numerous other teens at Miss Kaye's Dancing Class in Killara. And this is where I first recognised Leighton Watts, the musician, when he hijacked the upright piano in Miss Kaye's absence to belt out Dave Brubeck's Alley Cat, forbidden Craven-A punctuating a mischievous smile. Soon after, he swapped to acoustic guitar, playing songs like That'll Be The Day by his hero, Buddy Holly, and longing for a professional gig.
"I'd say [to the bands] 'I've got my guitar' and they'd say 'Yeah, right mate, forget it'. Then when I was about 17 I was allowed to sit in on a band playing Animals' stuff, and I wasn't bad at all. And later on they said 'Okay, you can sing a couple of songs' and then it started. They'd say 'Bring your guitar. Come on, bring your guitar.'"
'Cause I can out-love and out-fight any man alive
I can charm the pants off any woman too
I can wrestle alligators with my two bare hands
Make 'em handbags and a pair of shoes.
I chew iron nails for breakfast and elephants for lunch
And sink a thousand beers along the way.
I almost scare myself 'cause I'm so damned tough ...
But not today!
– L.B. Watts, 'But Not Today'
* * *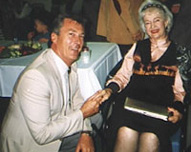 Leighton with the legendary Dale Evans
CONVERSING WITH Leighton B. Watts after almost four decades apart takes some adjustment. He's no longer the sweet adolescent hiding his insecurity behind a cheap guitar and a cheeky smile. These days he presents as a monumentally complex man with a "predisposed addictive personality", the characteristics of which he maintains are "terminal uniqueness, an egotist with an inferiority complex, horrible loneliness often in the middle of a crowded room, and an overwhelming desire to change how I feel about myself, others and the world generally." He's also alarmingly honest, routinely challenging friends old and new to accept him warts and all – or turn and walk away.
But perhaps it is these same qualities that infuse him with those flashes of poetic insight required to touch ordinary people with his lyrics, and to move audiences with a compelling but vulnerable stage presence that says 'I could be you', and to provoke reviewers to laud his music. "Charm. That's the first word that comes to mind when listening to this artist," writes one American reviewer from Songwriter's Monthly Magazine. "Intimate, heartfelt, inspiring, humorous ... Mate, you've got to try this Aussie's tunes!"
Whether or not Australians embrace Leighton B. Watts remains to be seen, but there's no doubting that Americans still do. So, if necessary, he'll return to the US within the next few years.
"I've had a risky, frustrating, glorious, stuffed-up, boring whizz-bang life and have seen a lot, which only fuels the desire to see more," he says. "And as lately as today, I was told I have enormous potential. Rather a strange thing to say to a man my age, but exciting, nevertheless."
Story this page © 2005 Sharyn Peacocke
For more information about Leighton B. Watts visit www.leightonbwatts.com